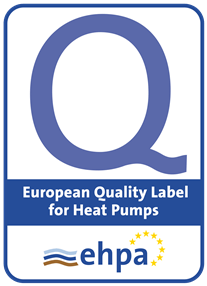 The European Heat Pump Association's (EHPA) quality label for heat pumps has its historical basis in the work of the D-A-CH heat pump associations of Germany, Austria, and Switzerland, when the need arose to create a common set of quality assurance requirements for heat pump products and services in order to protect the market from the sale and installation of poor quality heat pumps. Approved products carried the "Wärmepumpen Gütesiegel" quality label or quality seal for German-speaking countries. This idea has been developed further in the European Heat Pump Association, which currently counts 21 countries or national heat pump associations among its constantly expanding membership.
The Czech Heat Pump Association, a founding member of the EHPA, has created a national committee according to EHPA rules entitled to award the quality mark valid in the Czech Republic. The quality mark can be awarded to heat pumps for heating with electrical power, with or without hot water heating, with a heating capacity up to 100 kW and where the heat energy is extracted from air, ground, or water.
The "quality mark" based on the required criteria can help further develop the growing heat pump market, in particular by:
it provides protection to the consumer that the product bearing the mark has guaranteed quality parameters, uses state-of-the-art technology, and has secured increasingly sophisticated long-term benefits;
provides a convincing argument (institutional and financial) to all institutions and investors seeking to benefit from public subsidies;
supports the modern concept of heat pumps as energy efficient, reliable, and high-quality products;
promotes the inclusion of heat pumps among innovative technologies for generating environmentally friendly, renewable external heat;
helps protect the existing heat pump market from poor quality products.
In order to be awarded the EHPA quality mark, a heat pump must meet the criteria of the EHPA test, which is performed by accredited testing facilities or test laboratories where the manufacturer or distributor must meet predefined service standards.
The key requirements are:
a) Product compliance with international and national standards, rules, and regulations…
b) Minimum values of the energy effect expressed in terms of coefficient of performance (COP) defined for each system as follows:
ground-water: at B0/W35 COP 4.3
water-to-water: at W10/W35 COP 5.1
air-to-water: at A2/W35 COP 3.1
direct evaporation-water: at E4/W35 COP 4.3
c) Confirmation of the energy performance of the heat pump as reported by the manufacturer through an EHPA accredited testing facility.
d) Confirmation of technical parameters relating to noise.
e) Existence of a sales and distribution network, scheduling, authorized service, and operating documents in the local language of the country where the heat pump is distributed.
f) Existence of a functioning customer care network in the service area that allows for a 24-hour response time to resolve consumer complaints.
g) A minimum two-year full warranty, which must include a statement that spare parts will be available for the heat pump for a minimum of ten years.
Contact us, we'll get back to you